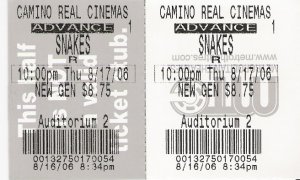 If you haven't heard about Snakes On A Plane go educate yourself:
Official
IMDB
Wikipedia
With that out of the way I'm going to go see this mother f***ing movie about mother f***ing snakes on a mother f***ing plane TONIGHT! If you're wondering why I keep using the phrase "mother f***ing" see this clip from the Daily Show.
I am about as excited as Samuel L. Jackson in that clip for this movie. My housemates and I text message each other "Snakes on a plane" about five times a day and we all agree that tonight is going to be crazy. There's going to be partying followed by waiting in line for good seats. Once in the theater there is a guaranteed roar of the audience when the title "Snakes On A Plane Appears" and every time Samuel L. Jackson says "mother f***in'" produced by us Isla Vistians who are also known as Santa Barbarians. Normally the majority of Isla Vistians are apathetic thus being hard to gather anywhere besides around a Beirut table. However we always manage to unite whenever the cause is right, and tonight that's Samuel L. Jackson and mother f***in' Snakes On A Plane!