After just finishing my post on F8 I'm going to keep this one pretty short.
I actually was only at Google 3 days last week because of F8 and I took Friday off to head down to Santa Barbara for a wedding. Anyway since I use IRC at work I discovered ERC which is a emacs IRC client. It's awesome because I love emacs. Additionally at work I was continuing to make progress on my project so that's always good.
Tuesday there was a volleyball skills competition which was fun. I didn't do so well because it only tested serving and passing in which neither were really about skill but more about being able to adapt to the particular test. I guess that is a skill which I wasn't good at, nonetheless it was fun. Additionally Tuesday evening I had dinner with some interns from my building I had yet to meet. These are future colleagues for sure if we don't become good friends. Yeah that was my work week. It doesn't seem very exciting from an observer's point of view but I assure you I am having a great summer.
Aside from work Thursday evening I went to Adam and Kristin's to have dinner with them as well as Cheri and Laura. I taught Laura the basics of the card game Pusoy Dos which her dad should be pleased with as he and I used to enjoy playing.
As I said before, Friday I went down to Santa Barbara for a wedding. Not having any good clothes I was freaking out that I was going to be under dressed, and waiting until the last minute didn't help. Let me just say I transformed into a baller after an hour of shopping at Nordstrom's a few hours before the wedding. I walked in right as they opened and as innocent as a bearded man can be I said, "help please" as I had no idea what I was doing since the last time I had dressed up was for Prom in 2004, and that was easy as everything came as a combo rented, and my mom was there.
There was actually some ballin sales going on, or at least they did a good enough job to make me believe they were on sale. I ended up with black Hugo Boss pants, a light blue Hugo Boss button down and Allen Edmonds "Wendel" shoes in black. Yes I probably spent a bit much, but damn it feels good to be a baller.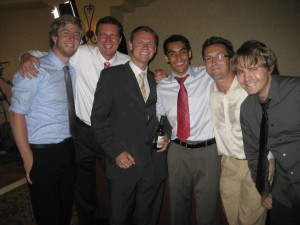 Anyway the wedding was awesome and one of my most fun friends, Margaux, attended with me. I can't wait for the next one! Anyway, on Sunday Molly, Mira and I headed back. They came down to hang out for the weekend as well, which worked out great because solo six hour drives suck. We stopped at the best Clam Chowder place, the Splash Cafe and DAMN it hit the spot well. Upon getting back to the Bay I headed over to Ann's house for some awesome homemade Mac and Cheese. Ann is one of the interns I met on Tuesday.
Anyway that was last week. Ann and I are going to see Wall-E tomorrow, and I am very excited as I have been wanting to see it. I also still need to see Batman. So much to do.