I'm going to try to give a brief week by week update on my Google adventure so here goes, with a few extras. As I mentioned previously, working at Google is much more amazing than everyone makes it out to be. Yes they do make it out to seem awesome, but imagine awesome-er, and your still short. Okay… maybe I'm elaborating a little bit, but they do an excellent job of ensuring I'm not bored from the times of ~8AM to ~8PM. On a separate note, I don't have much to leave work for (yet), so chilling at Google a few extra hours is the easy decision, plus I eat breakfast, lunch and dinner there every day.
Anyway during week I watched a few videos, did a few tutorials, and tried to eat at a new cafe for each meal. I also discovered that my building has the following __cool__ things: unicycles, a pool table, a foosball table, a DDR arcade machine, and a few other arcade machines, such as the original Mario, and Pacman. I have yet to play on any of these, but it's only a matter of time.
Thursday evening I played some volleyball with a handful of other Googlers and made some contacts for more intense playing. I discovered that there is an unwritten rule at Google that one must jump serve on game point. I'm not much of a jump server, nonetheless to the astonishment of everyone playing, including myself, I aced my first jump serve. Someone commented saying that I looked like the person on the ball.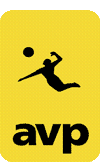 On Friday we had TGIF so there was free beer, and we, the nooglers, got cool hats with little propellers on them. Larry and Sergey lead TGIF, as they always have, in which they basically joke around quite a bit while covering the weekly happenings at Google. It is something I now look forward to in the weeks to come.
That wraps up my first week at Google. Look forward to updates on the following for next week:
Google lunch with

UCSB

friends, hopefully complete with a ball-pit picture, yes we have a ball-pit at Google.
Comments on my hour long massage :)
And well I can't think of anything else currently, however I'm sure there will be more interesting things to mention.
Finally the week wouldn't be complete without a weekend update. Friday evening, I saw Wanted, complete with a view of Angelina Jolie's ass with some UCSB friends. It wasn't the best movie, however I will say there was a lot of entertaining action. Saturday I fixed my bike up, got a helmet, and a camelbak and did a test bike to Google and back; it was quite enjoyable, though my butt is a little tender today. Saturday night I went to a Berkeley bar with some other UCSB friends, followed by a breakfast with them in Berkeley this morning. This afternoon I gained an interest in hobby RC cars after driving (and slightly damaging — sorry Victor) one in San Mateo. And this evening, I will finally get to check out a Palo Alto (Stanford area) bar. It was a good week.